That title I shamelessly borrowed¹. The story itself is so insane, I could not come up with a better. But crazy as it sounds, it is for real. Maybe we don't know too much about King Abdulaziz Camel Festival taking place right now in Saudi Arabia. It is after all only in its second year. But it is BIG. There are 30,000 camels at the festival and one third of a million visitors.
The festival comprises 2 main events:- the King Abdulaziz Award for Camel Racing, and the King Abdulaziz Award for Camel Beauty.
I know.
The Camel Beautiful
If you are going to take part in something as nuts as a camel beauty pageant, you need your camel to shape up to the ideal of camel beauty. What the judges are looking for –
the perfect height, shape and placement of the hump
full, droopy lips
long eyelashes
large features
a big head
delicate ears
well-coloured coat
Dirty Tricks
But going back to that screwball title, it contains one significant inaccuracy – the camels are the innocent, injured parties here. It's not the camels who were caught out "using Botox". As if. The needle was being wielded by a corrupt Saudi vet at the request of corrupt camel owners. Days before the festival the man was caught red-handed performing plastic surgery on the animals. Ear-reduction surgery to be precise. Yes, we are still talking about camels. Remember what makes for the camel beautiful? 'Delicate ears'. The same clinic was also found to have treated the 12 unfortunates with the Botox that got them expelled from the beauty pageant. As far as is known, neither the vet nor the camels' owners were sanctioned. Just the camels.
"They use Botox for the lips, the nose, the upper lips, the lower lips and even the jaw," says Ali Al Mazrouei, 31, son of a top Emirati breeder. Collagen fillers too. "It makes the head more inflated so when the camel comes it's like, 'Oh look at how big is that head is. It has big lips, a big nose'."
Besides using Botox and collagen, some owners physically pull on the camel's lips everyday in an attempt to lengthen them. What patient and long-suffering creatures these dromedaries must be.
Other competitors darken their camels' coats with oil, and fluff them up with a fine comb and lots of hairspray. But as the glamorised contenders are held in a special holding pen the night before the pageant to prevent last minute tampering, the morning mists of the Saudi desert soon put paid to any fancy styling. The idea is that "by the time of the judging, prospective champions will only have their God-given beauty." Hmm.
Temptation
But why? Why go to such extreme lengths as even Botox and plastic surgery to enhance the camel body beautiful? The answer is not far to seek. As with most human interactions with other animals, so with the camel beauty pageant. The driving force behind every human activity using other animals for human ends is…. Money. In this case lots and lots of it – a pot of gold worth a staggering US$57 million, with the added incentive of raising the sale price of the winning camels by millions more.
With such riches at stake, the temptation to cheat is no surprise. Dirty tricks, as the organisers see it. For the animals, it's abuse.
At first glance, the idea of a camel beauty pageant seems to us absurd. But if you think about it, it's no more off the wall than the dog shows held in the West. While with dog shows, the prize money and increased value of breeding stock may be in the thousands rather than the millions, it's still clearly enough to tempt participants into cheating.
We have dog-doping. We have dogs' fur dyed, and chalk used to whiten fur that's not-quite-white-enough. We even have prosthetics to alter the tilt of the ears, and muscles clipped to get the perfect set of the tail. Every dirty trick right down to murder – poor Jagger, a prize-winning red setter fatally poisoned at our own Crufts in 2015.
Dogs here, camels there. When humans sniff money, other animals get abused.
Camels in Demand 
In the Gulf States camels are not wildlife. They are our equivalent of race horses and cows rolled into one. Bloodstock (if they're racing camels/beauty pageant camels) or livestock, traditionally used for their milk, and increasingly for their meat. The Economist describes the poor creatures as being "speedy and tasty". Unfortunate attributes to have.
The explosion in demand for camels is creating a huge boom in camel breeding on the other side of the Gulf, in East Africa. In the Sudan, the Rashaidi tribe that migrated from Saudi Arabia in the mid 19th century, are enjoying a new-found affluence raising camels for the Gulf States. Around 200 baby camels are sold each month to Saudi Arabia, and many more to the United Arab Emirates.
Egypt is already a big market for camel sales from East Africa. '"Thousands of camels come to Birqesh [in Egypt] each week… trucked in from as far as Sudan and Somalia," said camel-seller Mohamed Fawzi Fahmi. Most of the camels that survive the sometimes arduous journey to Birqesh will end up meeting the food demands of Cairo's nine million residents, while the rest can be used for farm work or tourism. Upon their arrival, the animals are sometimes emaciated or have open wounds from being packed into trucks in a long journey that does not necessarily have the best interests of the animals at heart – camels here are a commodity.' 
Camels for Racing 
The Rashaidi are renowned for breeding some of the world's fastest racing camels. The camels are trained at dawn and dusk each day, racing around a track in the desert while wealthy visiting Emiratis look on. They are on the lookout for potential champions to enter in the multimillion-dollar races in Dubai, and no doubt in Saudi's King Abdulaziz Festival Race also.
Where there is animal-racing, be it greyhounds, camels or horses, the animals suffer. They are raced too young, there is selective breeding detrimental to the animal's health, doping and illegal betting. Criminal activity surrounds these so-called sports.
Those camels, greyhounds and horses that fail to make the grade as racers, and those 'retired' from racing are sent to slaughter.
Children and Robots
Just to add another touch of the surreal, since (under pressure from UNICEF) the UAE banned the use of child jockeys in 1993, the camels in training are "whipped along by miniature robots dressed in jockey silks and given orders remotely from white Toyota pickup trucks." You could not make it up.
There is a deadly side to this though, because the ban is widely ignored. This is a passage from Death in Dubai by Ron Gluckman
ONE OF THE WORLD'S TOP JOCKEYS poses for a photo by the track. His smile says it all. Two front teeth are missing. Raji Shubir [at 6 years old] ranks with the youngest champions of the race course.
The races Raji runs are dangerous brushes with death in the camel pits of Dubai. No riches await young riders like Raji, who are stolen or bought from beggar parents in the slave markets of India, Sri Lanka and Pakistan. And fame is a foolish notion. Fans will never see Raji's name in magazines, not even if he is trampled to death during a race or murdered afterwards by jealous child jockeys.
But die they do, kicked to death by camels or killed by rival baby riders. Such is the sad, short life in the fast lane for untold slave children shipped to the camel pits of the United Arab Emirates (UAE).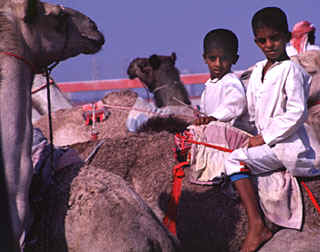 Raji, whose name was changed for this article, arrived in Dubai like hundreds of other children from the Asian subcontinent. He was sold by his pauper family to a servant of an Arab lord. Raji slipped through immigration, posing as the child of the Indian servant.
This is typical, according to authorities in India, who smashed several child-selling gangs during the early 1990s. The kids are sold for as little as US$3. Hundreds more are kidnapped, often toddlers as young as two.
UAE immigration and police turn a blind eye to the baby trade that serves the sordid sports of sheiks and sultans of the oil-rich emirates. Even tales of vicious brutality are brushed aside.
A five-year-old rider was beaten to death by other child jockeys last year. But neither he, nor his six-year-old assailants, were mentioned in media or police reports. "This happens often, too often," says a local reporter, who requested anonymity for fear of reprisal.
Seven Asian and African countries, Pakistan, Bangladesh, Sudan, Mauritania, Eritrea, Somalia and India were named as the main culprits exporting child camel jockeys to the UAE. Shocking child abuse as well as animal abuse. And underlying it all – money.
Gulf States Sucking up Camels from Across the World
Meanwhile several thousand miles away in South Australia, the future of 300,000 feral camels is starting to look very shaky. The camels which originally arrived in Australia with Afghan and Arab immigrants in the late 1800s, are now being "cultivated" for a local abattoir. 25,000 so far have met their ends this way, chopped up and sent to the Middle East to satisfy the growing demand for camel meat. But the Australian Ngaanyatjarra Camel Company has not been slow to recognise the potential for supplying not only camel meat, but live animals to the Gulf States for the much more lucrative racing and beauty pageant camel breeding industry.
The Botox and Beauty Pageant is No Joke
The "sexy" camels kicked out for using Botox makes for an amusing title, but there is nothing funny about the exploitation of these innocent creatures. If there is a way to exploit them, you can be sure humans have left no stone unturned to find it.
The well-known verse from the Bible is often wrongly quoted as, "Money is the root of all evil."
The actual quote is, "The love of money is the root of all evil." The love of money is at the root of all the evils perpetrated on the defenceless, children and nonhuman animals the world over, camels no exception.
Sign petitions
Camels Don't Need Plastic Surgery – Charge Perpetrators Now!
Protect Camels from Abuse – End Camel Rides at Wilson County Fair
Don't Force Camels to Give Students Rides for Entertainment
Other actions to take
Visit Joseph's Amazing Camels Facebook page and leave a comment about their use of these animals for racing and rides here in the UK
Read why you should Ride Bikes, Not Animals and never go on a camel-ride or trekking trip.
Cover photo is a diagram of judging points from the King Abdulaziz Camel Beauty Pageant
¹Title courtesy of Rafi Letzter
Sources
12 Sexy Camels Kicked Out of Beauty Contest for Using Botox
Company plans for Gulf exports
East Africa's booming camel trade
Egyptian animal welfare: Cruel camel markets and kind donkey barbers
Ten Things You Didn't Know About Crufts
Journalist on how handlers cheat in dog shows
Related posts
The Next Extinction – Donkeys??
6 Good Reasons to Pass Up on Crufts
The Crufts Effect – Dead Puppies Dumped Like Rubbish in a Ditch